Are you looking for a spooky yet cute Halloween drawing?
Zombies are a popular theme around Halloween, and drawing a zombie bunny can make for a fun and spooky art project.
This drawing is quite easy to follow and perfect for beginners who want to practice their drawing skills.
Here is a step by step guide on how to draw a zombie bunny holding a large pumpkin with both hands.
How To Draw A Zombie Bunny – A Step by Step Guide
Zombies are often depicted as scary, rotting corpses hungry for brains.
But you can put a cute, yet still creepy spin on zombies by drawing a zombie bunny.
Bunnies are associated with Easter, so a zombie bunny holding a pumpkin can make for fun Halloween art.
This unique combination of cuteness and horror adds an exciting twist to your artistic endeavors, capturing the essence of Halloween in one composition.
With just a few simple steps, you can learn how to draw a zombie bunny in a dynamic pose.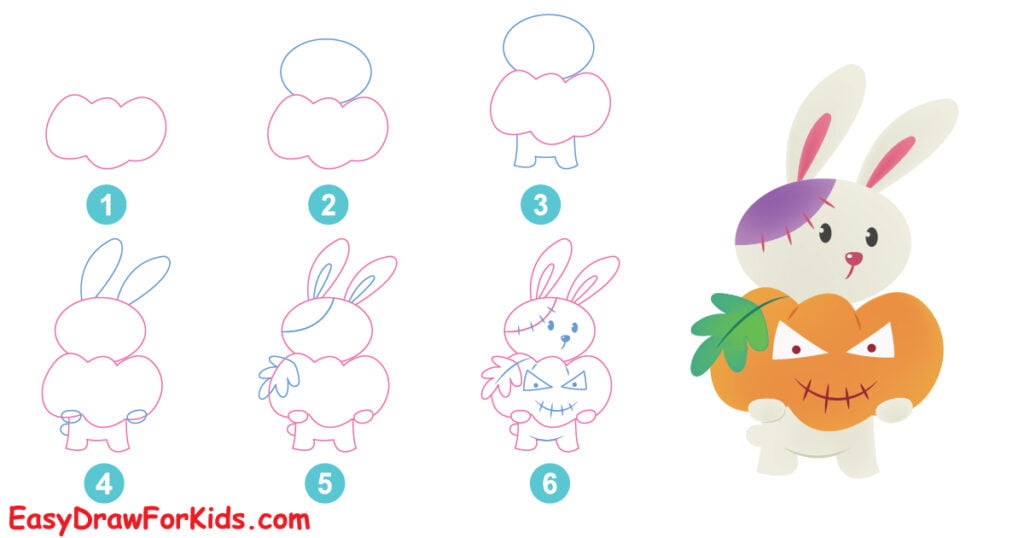 Step 1: Sketch the Pumpkin
Start by drawing a large oval shape in the center of your paper for the base of the pumpkin.
Then add in the curves and bumps that give it its distinct shape.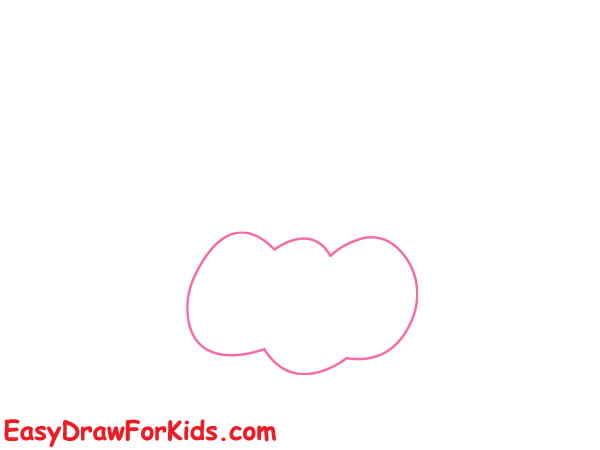 Step 2: Draw the Zombie Bunny Head
In this step in our guide on how to draw a zombie bunny will focus on the zombie bunny head.
Draw a slightly elongated oval shape above the pumpkin for the zombie bunny head.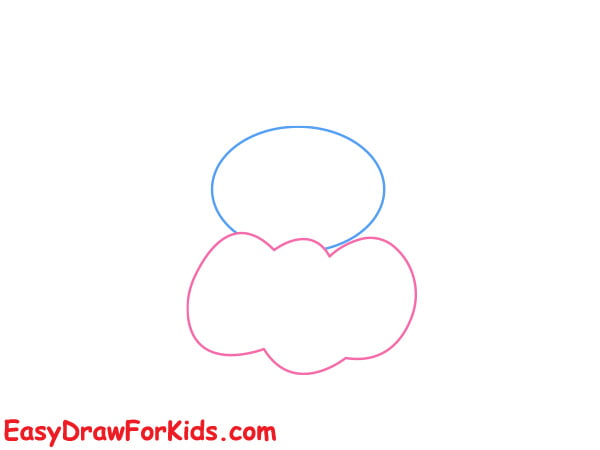 Step 3: Draw the Body and Legs
Sketch the bunny's body by drawing two long, curved lines extending below the pumpkin.
Then draw two legs extending down from the bottom of the body. Make them thin and bony.
Add some ragged details to the legs to match the zombie look.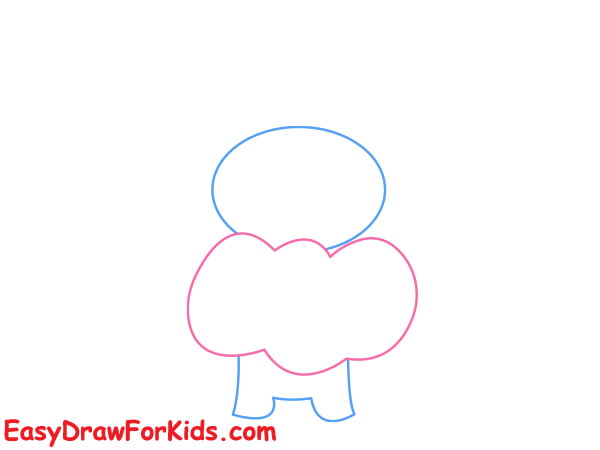 Step 4: Draw the Ears, Hands and Tail
Draw two long, curved lines extending from the sides of the head to create the bunny's ears. Make the ears tattered or torn to give them a zombie-like appearance.
Add some messy and disheveled fur details to the bunny's head and ears. Make the fur look uneven, patchy, or matted to give it a zombie aesthetic.
Draw two arms extending out from the sides of the body. Position one arm higher up and the other lower down to hold the large pumpkin with two hands.
Draw a half-circle behind the body for the zombie bunny tail.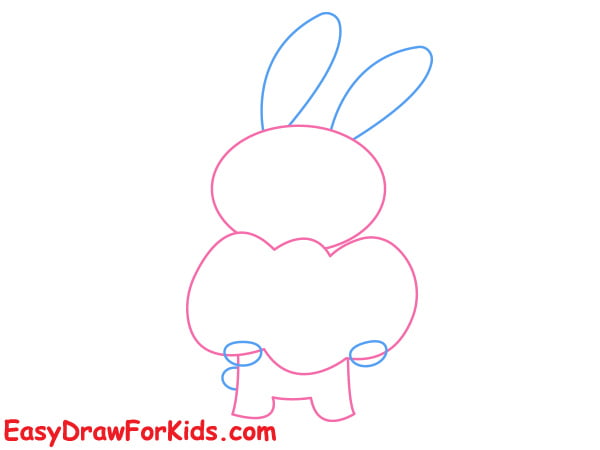 Step 5: Add Details to the Zombie Bunny
Sketch some torn or tattered clothing on the bunny's body. You can make it look old, ripped, or covered in patches. Consider adding some stitches or bandages to enhance the zombie effect.
To give the pumpkin a more realistic look, add some curved lines across the surface of the pumpkin. These lines can be irregular and varied, as pumpkins often have bumps and ridges.
Draw a curve line for the leave of the pumpkin.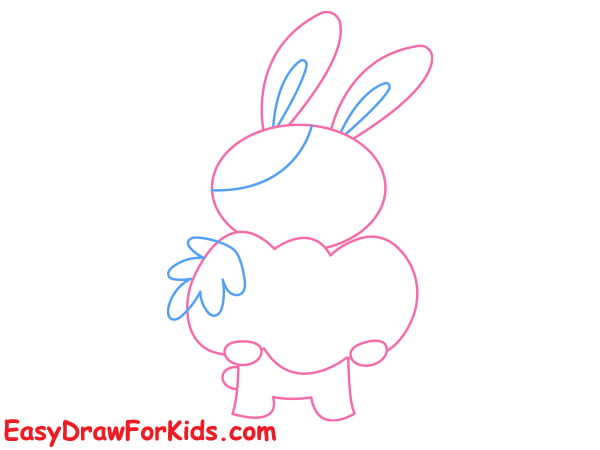 Step 6: Add the Facial Features
The sixth step of this guide on how to draw a zombie bunny will focus on the facial features of the bunny.
Draw two big, round eyes with small pupils. Give the eyes a tired or vacant look to enhance the zombie effect. Add a small, stitched or jagged nose in the center of the face.
Sketch a stitched or jagged mouth beneath the nose. You can make it slightly open to show some teeth or make it appear torn or decomposed.
Then draw triangular eyes and a toothy mouth carved into the pumpkin to make a jack-o-lantern face.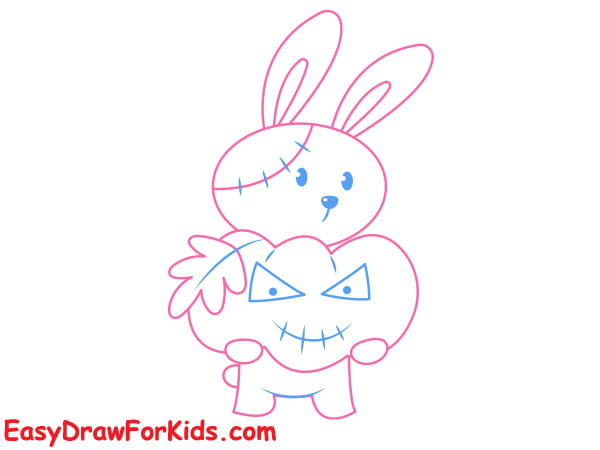 Step 7: Color the Drawing
Finally, color the drawing using your preferred coloring materials. You can use crayons, colored pencils, or markers.
Choose Halloween colors like orange, green, and purple to create an eerie vibe.
Don't forget to color the bunny zombie's fur and clothes to complete the look.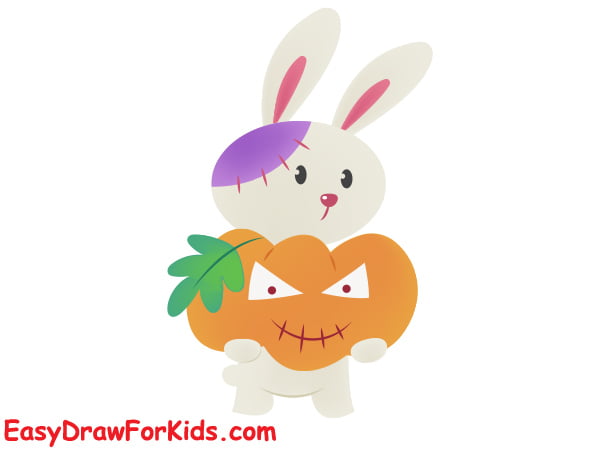 Tips for Drawing a Zombie Bunny and Pumpkin
Here are some additional tips to help you master drawing a zombie bunny holding a pumpkin:
Use photo references of bunnies and pumpkins to help render realistic textures and shapes.
Look at Halloween zombie decorations for inspiration on creepy details to add.
Play with different angles like drawing it from the front, side or back.
Use bold, dark lines to vividly delineate the zombie features.
Make the zombie bunny expression demonic and fierce to look scary.
Give the pumpkin exaggerated expressions like angry eyes and mouth.
Use vivid orange, black and green colors for the pumpkin.
Add dramatic shading and highlights for extra dimension.
Splatter some red paint or ink to look like blood spatter.
Conclusion
Drawing a zombie bunny is a fun and easy Halloween drawing idea that even beginners can do.
With our step-by-step guide how to draw a zombie bunny, you can create your own spooky yet cute zombie bunny in no time.
Let your imagination run wild while designing the pose and zombie features.
Get creative with making the pumpkin look menacing.
Drawing scary zombies with a twist like a bunny or pumpkin can be a fulfilling way to celebrate Halloween through art.
Happy drawing!
You may also enjoy: