Are you a fan of cupcakes?
Do you love drawing cute things?
Why not combine your two passions by learning how to draw a cute cupcake?
Drawing a cute cupcake is easy and fun, and with this step by step guide, you'll be able to create your own adorable cupcake artwork in no time.
In this article, we'll provide you with all the techniques and tips you need to know to make the perfect cupcake drawing that looks as sweet as it tastes.
How to Draw a Cute Cupcake: A Step by Step Guide
Here are two different styles you can try when you learn how to draw a cute cupcake step by step.
1. Simple Cupcake Drawing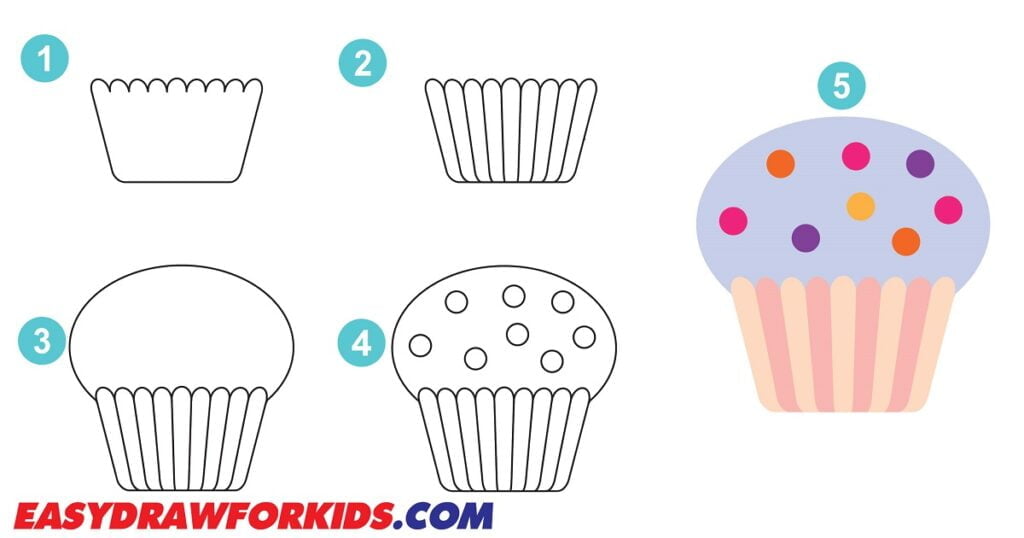 Step 1: Draw the Base of the Cupcake
Start by drawing the cupcake liner. This is the decorated paper cup that holds the cupcake.
Draw a wide "U" shape on the paper. This will be the form of the cupcake liner.
Draw a wavy or scalloped edge around the top opening of the liner.
Step 2: Complete the Base of the Cupcake
Draw some vertical lines between the two "U" shapes to indicate folds in the liner. You can space these randomly.
If desired, add some decorative patterns on the liner like polka dots, stripes, swirls, etc.
The liner should look like a decorated paper cup.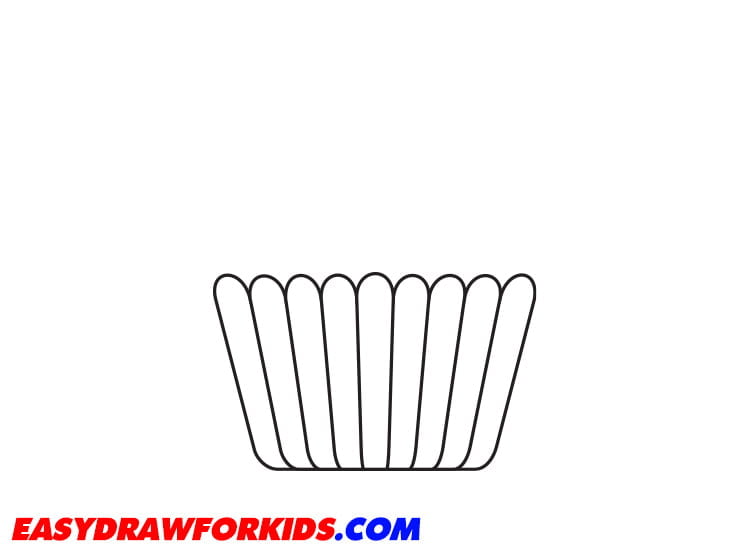 Step 3: Depict the Cupcake
In this step in our guide on how to draw a cute cupcake by draw the cupcake base on the liner.
Draw a mound shape attached to the top of the liner. This is the cupcake itself.
Add some texture by drawing a few bumps and indents in the cupcake base. This creates the look of a moist, fluffy cake.
The base should fit snugly inside the cupcake liner.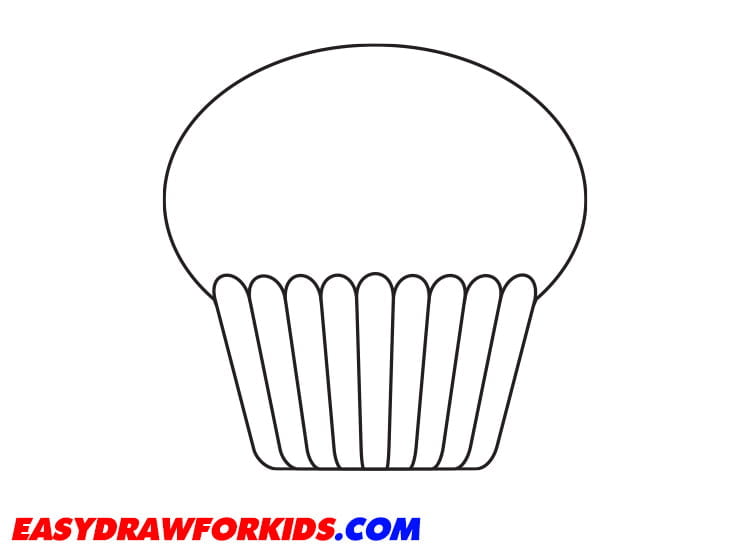 Step 4: Add Details to the Cupcake
To make the frosting look even yummier, add some details like sprinkles.
Draw small circles on top of the frosting for the sprinkles.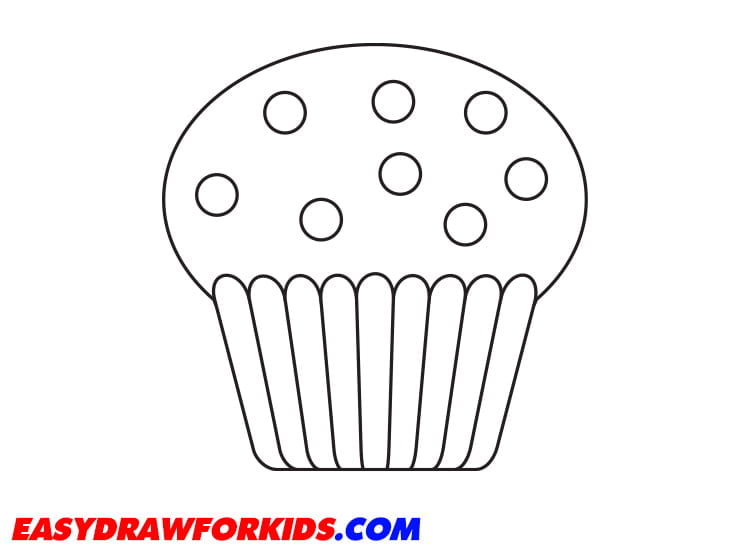 Step 5: Finish with Color
Finally, add color to your cupcake drawing using markers, colored pencils, crayons, or other coloring supplies. Here are some suggestions:
Frosting – pink, brown, tan, white, etc.
Liner – solid color or decorative patterns
Sprinkles – rainbow colors
Cupcake base – brown, tan, etc.
Decorations – variety of colors to make them stand out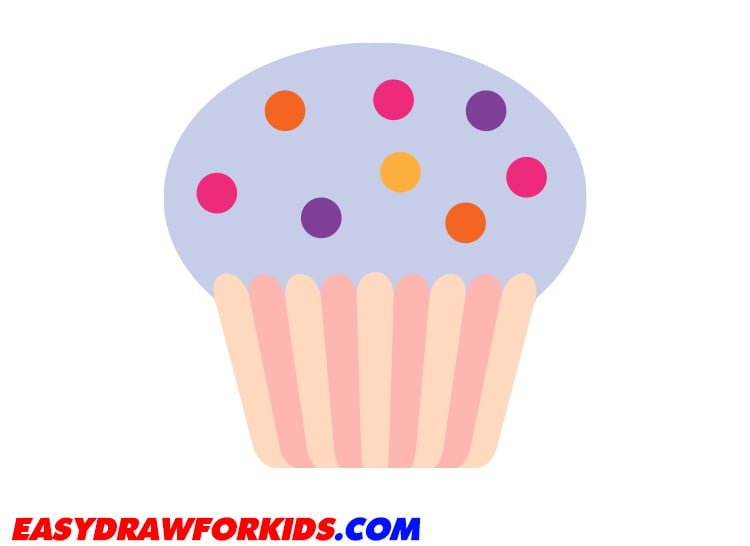 2. Cute Cupcake Drawing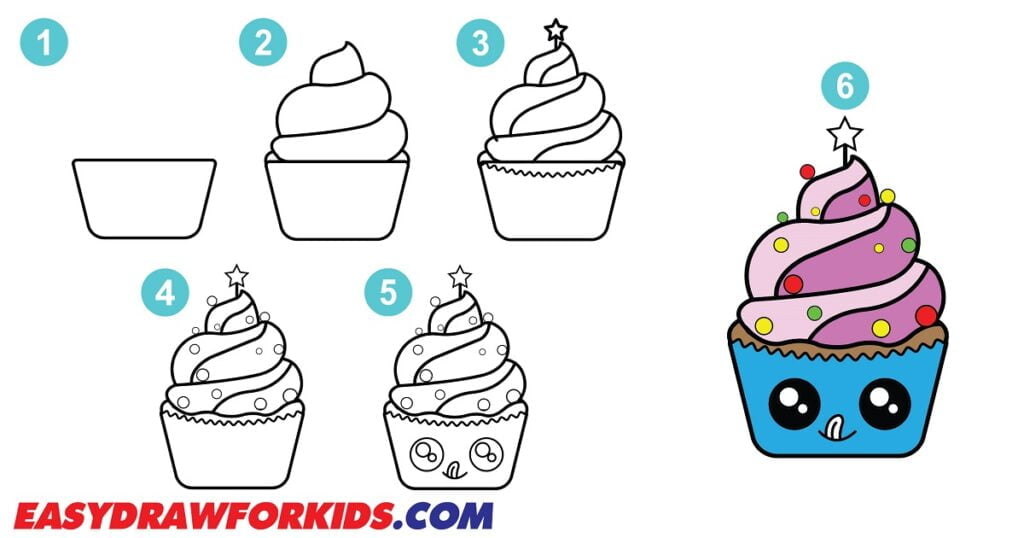 In this guide on how to draw a cute cupcake in 6 steps to help you drawing a cute cupcake with ease!
Step 1: Draw the Cupcake Liner
Draw a wide U shape for the cupcake liner. Make sure to leave an open top.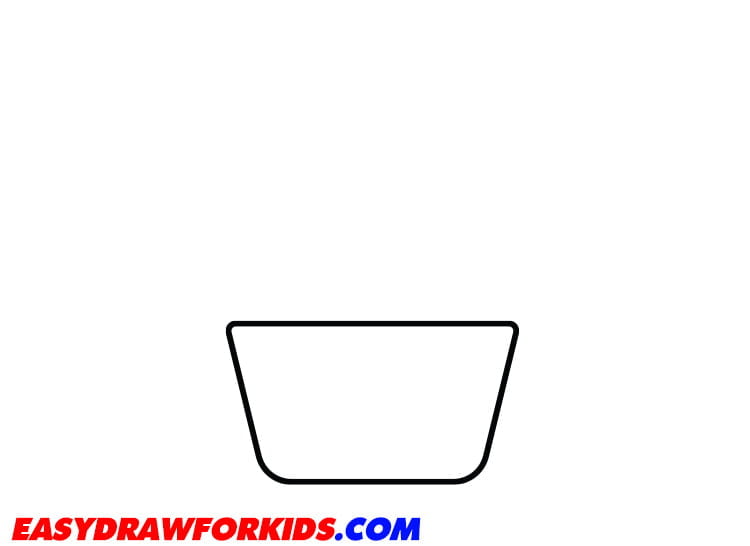 Step 2: Sketch out the Top of cute Cupcake
Draw swirly lines from the top of the base line to make the folds of the cupcake liner.
Continue adding more folds until you reach the top of the liner.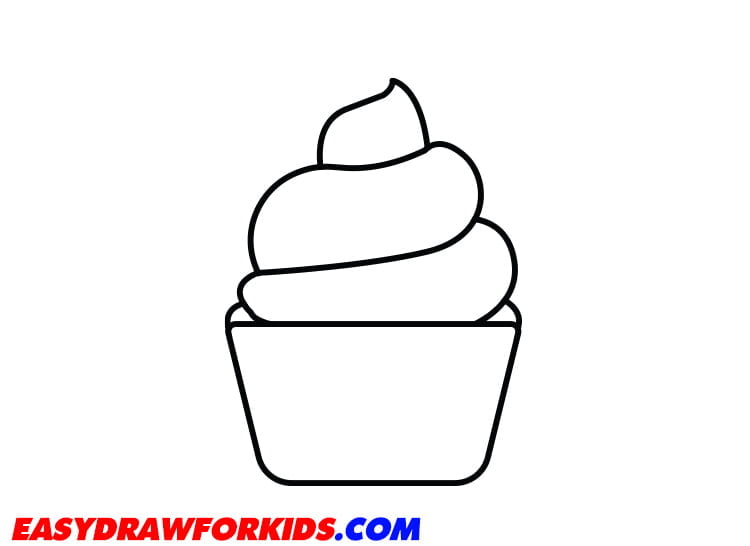 Step 3: Add the Details
Draw a star at the top of the cute cupcake and long curved lines along the cupcake
Then, add small ovals in between the folds of the liner that will represent the scallops.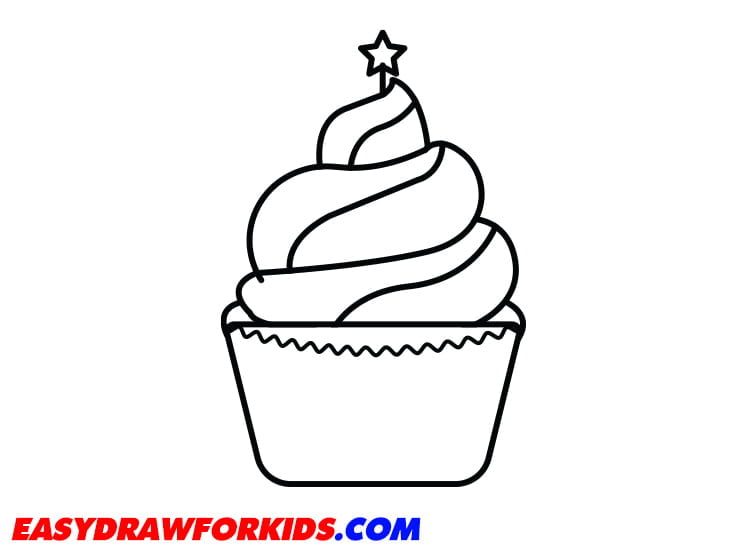 Step 4: Add Decorative Elements
Draw random sprinkles scattered over the frosting.
Vary the sizes and shapes – some round dots, oblong dashes, starbursts, etc.
Overlap some sprinkles to create depth. Let some extend off the edge of the cupcake too.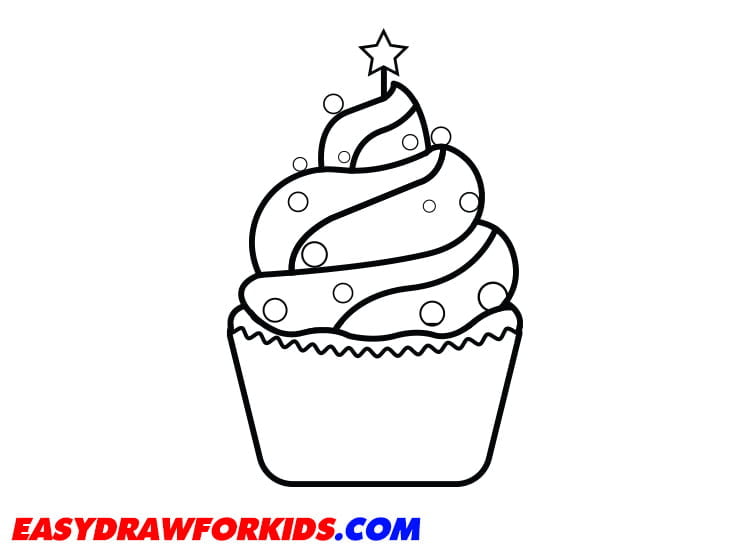 Step 5: Depict Facial of Cute Cupcake
Draw two circles at the bottom of cute cupcake for the eyes
Next, draw 4 circles inside the eyes for the pupils
Then draw a curved line for the mouth and oval shape for the tongue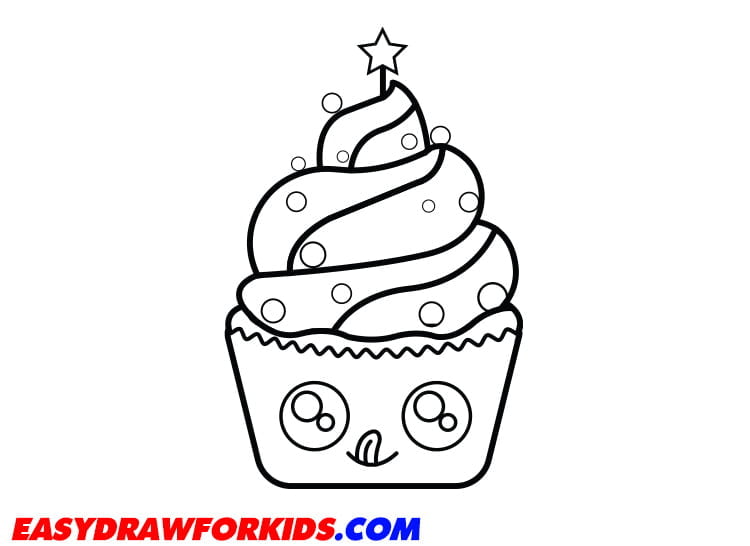 Step 6: Color the Drawing
Now that we've successfully this guide how to draw a cute cupcake, it's time for the most exciting part. 
To color the cute cupcake you have drawn by use blue, brown, red, yellow and pink.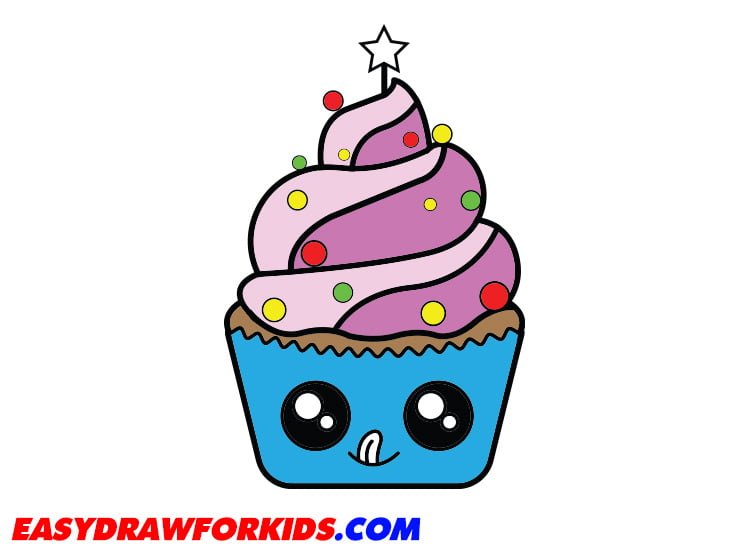 Congratulations! You've successfully learned how to draw a cute cupcake.
The basic steps can be used to draw all kinds of cupcake designs by getting creative with the liners, frosting, and decorations. Let your imagination run wild!
Tips for Drawing Great Cupcakes
Here are some extra tips to take your cupcake drawings to the next level:
Use reference photos – Look at pictures of real cupcakes for inspiration on designs, textures, etc. Study the lighting and shadows too.
Play with proportions – Draw some cupcakes small with tiny decorations. Draw others large and overloaded with frosting and sprinkles. Varying sizes makes the drawing more dynamic.
Use shading – Add shadows and highlights with your coloring supplies to create dimension. This makes the cupcakes look more realistic and textured.
Overload with sprinkles – Heaps of rainbow sprinkles make cupcakes look extra fun and yummy! Let them cascade off the sides too.
Draw a background – Place your cupcake drawing on a related background scene like a bakery counter, birthday party, ice cream shop, etc. This adds context.
Add text – Include fun text like "Yummy!" or "Happy Birthday!" to amplify the theme.
With a little practice with guide how to draw a cute cupcake, you'll be expertly drawing delicious, decadent cupcakes in no time!
Examples of Cute Cupcake Drawings
To spark ideas, here are a few examples of adorable drawn cupcakes in different kawaii styles:
Kawaii Cupcake with Face: Add a happy face, rosy cheeks, and large eyes to anthropomorphize your cupcake. Give it a cute, friendly personality.
Chibi Cupcake: Exaggerate the cupcake's proportions with a large, round head, small body, and stubby liner for super cute chibi style.
Unicorn Cupcake: Incorporate fantasy themes like a unicorn horn and rainbow mane to create a magical cupcake.
Kawaii Cupcake Cat: Turn your cupcake into an animal character, like a kitty, by adding ears, whiskers, and other animal attributes.
Decorated Character Cupcakes: Decorate basic cupcake shapes with colorful frosting, sprinkles, and other decor to make each one unique.
As you can see, there are endless possibilities for making absolutely adorable cupcake art with just a bit of practice. Let your creativity shine by designing your own kawaii cupcake illustrations!
Conclusion
Learning how to draw a cute cupcakes is an enjoyable way to practice your artistic skills.
With a simple process of starting with the liner and building up the cupcake from there, anyone can create amazing cupcake art.
Don't be afraid to go wild with frosting, sprinkles, textures, and other embellishments.
Cupcakes make a wonderful creative subject, and they look good enough to eat once you've finished your drawing!
So grab your favorite coloring supplies and let the cupcake drawing fun begin.
You may also enjoy: